Preview of seventh F3J European Championships
Wloclawek, Poland

Can Sebastian Feigl do a "David Hobby"?

Poland's choice for the seventh European F3J championships is Wloclawek, about halfway between Warsaw and Poznan. The Aero Club at Kruszyn is the furthest north of the FAI championship sites since Lappeeranta in 2002, Finland's world championships, but the weather in August should be hot and thermally. But if other Eurochamps are anything to go by, it won't be too kind all the time.

Poland is a Roman Catholic country and for those pilots who want to do well or better, then they can pray in a 700 year-old Gothic Cathedral and an even older St Vitalis Church. For younger guys and prize-giving celebrations, the old town has discos, drinking and eating houses.

One of the joys of travelling around the world in search of Uncle's gossip is glimpsing how the rest of world enjoys life, and the Polish team has organised a couple of sightseeing cultural tours on the Saturday prior to the banquet, so take advantage of the hospitality.

What's new?
This year will be the first with a substantial change of rules if you forget about the stake ban which upset the F3J world in the early days. The first two metres of the landing tapes will be divided into 20cm lengths with a graduated scores between 100 and 90. Although Holland and Germany have already tried these landing scores to separate top pilots who can land within a metre of the target in most conditions, this is the first official FAI championship.

One argument for graduated tapes is to persuade pilots to land more slowly without the need to dork or spear their landings so violently. This technique amazes spectators, it's so unreal compared to full-size glider landings, and it has forced fuselage strengthening perhaps unnecessarily. And it is a moot argument. The faster the landing approach, the more responsive the model is, and the more likely pilots need to brake by piercing the ground.

Dart champions do not throw hard to hit their target. F3J and F3B pilots judge their landing technique usually on the state of the ground around the pin - long rough grass can arrest reliably, hard baked earth is a lottery and we've all seen a top score reduced when the model has slid or even bounced.

Graduated tapes do produce variation between close scores. So far I have not noticed any skilled pilots coming in a second or two earlier to ensure they get closer to the pin. Two aspects of F3J remain big bones of contention: how accurately does the timekeeper start the clock on tow release and how many times is an overfly missed and not penalised. Even the most neutral official timekeeper can be intimidated by the pilot's reputation, and it is his/her decision which counts.

As far as models are concerned, I am told there will be a few new models as well as the ever-extending tips for established gliders, but I shall leave these for the next gossip column after the event.

F3J world champion Benedikt Feigl who will not be flying in Poland, but will be spotting for brother Sebastian, the returning European Champion who defends his title in August in Wloclawek.
Who is going to fly?

Final list of entries is not 100% certain, but it looks as if 16 countries will take part, all sending full senior teams, with 14 countries having juniors, not always the full three man complement. Sadly the Estonian team was all set to take part until the credit crunch caused withdrawal of their sponsors. Hope to see them in France next year.

BULGARIA has become the most enthusiastic F3J country in Europe, largely due to the ever-growing success of Nikolay Nikolov's NAN Models, and also leading national pilot Sotir Lazarkov's determination to make an international reputation. They host their Eurotour event in Dupnitsa, a small town 100 km from Sofia with a panoramic flying site, and the hosts make the contest weekend into a festival of fun, the best I've enjoyed this year.

Sotir leads the senior team together with Konstantin Ranov and Valentin Valchev, and I shall cheer for them. I suspect that the junior team will do even better with Georgi Dimitrov, Delyan Todorov and Ivaylo Dimitrov. Favourite for a place in the flyoff among the team is Georgi, but I have hunch that 8-year old Ivaylo might make it, even if his transmitter looks too big to carry.

CROATIA has a full complement and mostly familiar pilots. Milivoj Hucaljuk will be a senior with his son Arijan flying in the junior team. The team is made up by Antun "bear-hug" Sikic who was such a warm host in Osijek and Damir Kmoch who really deserves a big win soon. At Osijek Eurotour this year all the team were beaten by Marin Kordic, who will not be a pilot in Poland, but will be one of the officials at Wloclawek.

Nikola Francic and Marijan Balasko join Arijan Hucaljuk to form the juniors. I am told that Arijan spends most afternoons, Summer, Autumn and Winter, practicing - lucky man, and he demonstrated one second launches in Turkey last year. Incredible 14 minute 59 second flights have been achieved by a handful of pilots, but I hope it never becomes necessary to do this to win contests. It is getting close, and I certainly expect to see two second launches even in the preliminaries.

The CZECHS will be hosting the F3B world championships in the week before F3J, and do not have a long journey to make Wloclawek. Two full teams consist of Jiri Duchan who so nearly became world champion in Turkey, Jaroslav Vostrel of the Samba family who will be taking time off from producing lots of Pike Perfects, and Pavel Kristof. Jakub Lzicar, Jan Lainer and Tomas Kadlec make up the junior team and look certain to give the German juniors a hard time.

No championship would be the same without Janne Savolainen with his sharp comments and wit, but he is not alone this time because Tuomo Kokkonen joins him. I wonder which team FINLAND will link with and I wish them every success.

It is also time for FRANCE to be amongst the winners, with the world champs coming up next year and the strength of F3J in their country. Lionel Fournier will be there as expected, along with Ivan Moquereau and Claude Simonneaud. It's good to see Florian Bocquet amongst the juniors, for it cannot be long before he elevates to a senior, and he is teamed with Robin Galeazzi and Titouan Lelaise.

Team GERMANY have a full force as ever, but with some late changes among the seniors and the team manager. Sad news is that TM Thomas Rossner has stepped aside, but a welcome change brings Reinhard "Lionheart" Vallant to manage the senior team with Christian Reinecke managing the juniors. Reinhard must be the youngest German senior TM ever and it is good to see DAEC, the national aeroclub, going for youth.

Sebastian Feigl, current European F3J champion, will be defending his title as an individual, although he won his place in the team and stood aside to allow Stefan Eder in as fourth in the qualifiers. Sebastian is on a glorious run of wins at this time. He became the new German national champion in Leverkusen last weekend. He triumphed in Belgium's high winds a week earlier, having packed his Xplorers to leave for home only to be told after a check on results that he has made the flyoff, which he then won. He won in Podhorany in the Czech Republic at the beginning of June by less than one point.

Tobias Lammlein also qualified but has had to step down for the champs coincide with college exams in Switzerland. His place goes to fifth in the qualifiers, and that happens to be his father Stephan Lammlein.

Stephan has been a dedicated supporter of F3J from the beginning, serving as junior team manager and stalwart tow man/helper many times. As team pilot extra pressure will be on, but placings in the Eurotour so far this year indicate that he relishes the challenge.

For Stefan Eder, 2009 is something special. Again he was often a contest winner in the very earliest F3J events all over Europe and flew for Germany at European and World levels. He holds overall responsibility for F3J in the Contest Eurotour circuit. He knows how important to success is a reliable team, for when he took a rest from F3J a few years ago and ventured more into F3B contests, his group became depleted, and on returning to F3J he could not win top spots. Now with his new Satori, Orca and other models he has designed, he's back, a very welcome return.

Notable over several years is that top ranking pilots who decide to take a break away from the stress and travel commitments of competing seriously - it's very real in terms of time, money and dedication to spend every weekend and more for the whole of Spring, Summer and Autumn - but dropping out also means that is difficult to top up performance to catch up with ever-increasing standards of winners.

Third senior for Germany is Karl "the hat" Hinsch, another pilot with a track record stretching back to the birth of F3J. He was the first ever F3J Contest Eurotour winner, many times team member, and last year's team manager. On the trannie sticks again, be warned for he is a pilot who more often than not makes the flyoffs at any level.

Junior team is Johannes Weber again, and newcomers Sebastian Manhardt and Timo Ganser. I met Sebastian in Bulgaria earlier this year, he has been flying for just over one year, coached by Reinhard Vallant. Sebastian was top junior in Bulgaria winning a superbly decorated "RED BULL" Xplorer. I shall be surprised if that model doesn't fly in Wloclavek.

Sebastian Manhardt, first placed junior in Dupnitsa, Blugaria, who won the "Red Bull" Xplorer donated by NAN Models, one of the most colourful examples of arty finishes.
After prolonged efforts, GREAT BRITAIN rarely see juniors flying in the qualifying league, which is very sad. As senior pilots, nobody will be surprised to see Adrian Lee, Austin Guerrier and Colin Paddon again, and they have the same team manager in Graham Wicks backed by stalwart helper Kevin Beale and Graham's son providing the muscle. At the last Europeans in Trnava, this team came fifth, Britain's most successful effort to date, and the same trio are determined to do better. The podium beckons.

Two of the team are believers in having latest models and equipment, with the third being dedicatedly determined to wring the best out of his red and blue models and "comfort-zone" equipment. Austin and Colin have switched to 2.4 GHz equipment, not without some teething problems, Austin with range testing to outdated instructions and Colin losing two models with intermittent signal failure before the transmitter was replaced by the manufacturer. They will both be flying Xplorers. Adrian's mainstays will be the usual Graphites, but he will have a trick up his sleeve with a Supra wing/Graphite fuz for his still-air standby. Adrian has all but booked his place for France next year and won this year's Interglide. But the remaining team places still beckon.

Last year's world championships will be remembered by ITALY as "Gallizia triumphant" and the family will be back in Poland. But who in the family? I know that Filippo Gallizia will fly as a senior pilot, and he stayed at home last year to take exams, allowing his father to pilot instead. Giavanni who became junior world champion in Turkey is not coming because he start a one year course at an international school in the USA in August. Well done and best of luck!

But Marco and Carlo Gallizia will fly as juniors - they took fourth team place last year - joined by Federico Montanini flying in his first championship.

Francesco Meschia and Alex Galtarossa make up the senior team. The senior pilots we shall all miss are Marco Salvigni and Massimo Verardi who have put family first this year, and Marco Generali who puts university first this time. Father and ex-TM Giuseppe Generali is also staying at home having been in the team for the last six international championships.

Italians bring loud voices, passionate supporters and a spirit of fun and "do-or-die" to events. With a relatively new team, they'll need it to triumph this time.
Sadly LITHUANIA did not make Turkey and have been absent from recent Eurotours, saving their international visits for the Baltic Cup. Poland is next door and full senior and junior teams will be there. Last minute changes to the senior pilots mean that Ricardas Siumbrys, Gintaras Kuckailis and Donatas Pampikas form the same team as in Trnava 2007. They will be flying the new Tragi 801X Cluster, Pike Perfects and Espada R's.

The juniors, competing for the first time, hold their European rivals' reputations in awe, but are determined to match the best. Paulius Vezelis, Lukas Tamulionis and Laurynas Ceskevicius will fly Xplorers, Supras and also Tragis. I hope they surprise us all.

No championship would be the same without the NETHERLANDS, and their team will have Peter Smitz, a dedicated helper for both Holland and Great Britain in the past, and for the first time as a pilot this year. Few pilots are experienced as Peter Zweers and Cor De Jong who make up the seniors. All will be managed by Manfred Wirtz, long time contest director of the Dutch Championships.

Defending junior champion, the ever-smiling Lesley van der Laan and Joeri Buil will make up a short-fall junior team. A pity they don't find a third because the Dutch youngsters always do well and could rival the best with a third score. I shall miss oft-times TM Jos Kleuskens, dedicated spotter of the best restaurants in town, but I'm confident that someone else will have that duty this year too.

Defending junior European champion Lelsey van der Laan who will have in mind the idea of gaining his title twice, and that would no surprise!
Team NORWAY will be led by effervescent and ebullient Jojo Grini who is another pilot running hot recently, winning in North Cyprus, second at Interglide a couple of weeks ago plummeting in Podhorany, flyoff in Turkey!
Jojo "The Diary" Grini from Norway in typical launch mode, making sure that the towmen start two seconds early. (Photo courtesy Nick Kidd)
And Uncle himself taking the official time..
Senior team also includes Tor Midtlund and Alf Erik Ross, making the same three as in Turkey, but they bring sound common-sense and skills to the team. The Brits stayed at the same hotel with them in Turkey - most enjoyable company as we discussed the disasters of the day. All the Norwegian pilots will take part in the Nordic Championships the weekend before Poland, and success among the 40 pilots expected could give added confidence at the Eurochamps.

Two Norwegian juniors will come to Wloclavek, Stein Marius Pedersen together with Fredrik Grini, both competing at international FAI level for the first time. Fredrik has been to Hollandglide twice with his dad already and knows the F3J scene. As a pilot now, I expect that he won't spend so much time with his computer games in Poland, and wish him good luck.

Host nation for the first time for an FAI F3J championship is POLAND, and although they have organised all sorts of other international model flying contests, this year could be a big test. Poland has a mixed entry record for championships although they sent a full team to Trnava in Slovakia 2007.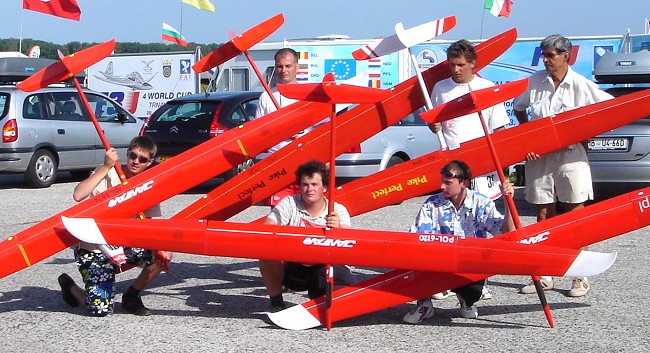 2007 Trnava, Slovakia where the Polish Team competed hard but did not win any trophies. The pressure is on as hosts in Wloclavek and Poland's history as a leading nation in the early days of sailplanes.
Senior team consists of Mieczyslaw Slovik and Wojciech Byrski, both pilots in 2007 when they managed 13th place, together with Miron Geratowski who flew as a junior in Trnava. Wojciech flew to sixth place in the flyoff at Podhorany, one place behind Philip Kolb, so he's a man to watch. Three budding champions from the juniors are Tomasz Frak, Paluch Mateusz and Dimitry Gashnev. I wonder if anyone will be sporting a Polish-designed model. At most championships there are few neutrals, but those that are will cheer the home team.

For once RUSSIA does not have so far to travel, mind you many of their pilots travel several thousands of kilometres across the country first to get to the border. Russia has two full teams, Andrey Volikov has plenty of international experience now and his hat and tail is famous. Second senior is Dimitry Gashnev who flew as a junior in Turkey, with Aleksander Volkov who I believe is new to the contest. All three juniors will be competing for the first time, Vladislav Frunze, Andrey Vechkanov and Alexander Dibrov. Again it will be interesting to see if they have developed a competitive Russian F3J machine.

Not many changes for SLOVAKIA this time, although I have yet to have confirmation that Jaro Muller will be team manager yet again. But I cannot imagine an FAI championship without him, so I bet he'll be there. I am eager to hear his latest news, for gossip has it that he has become semi-retired and concentrating on fewer one-off models. We shall see if golf has finally triumphed.

Senior team as usual, for they were all there in Turkey and Trnava, are Juraj Adamek, Jan Ivancik and Juraj Bartek. Also back again are juniors Jan Littva and Daniel Demecko, but there is one newcomer, Peter Capko.
SLOVENIA doesn't go for big changes either and nobody will be surprised to see Primoz Rizner, Bojan Gegric and Primoz Prhavc making the senior team, backed by Robert Ratiac, Metod Meolic and Jure Marc in the juniors. Primoz Rizner continues to play an important part in the development of NAN's latest creations and flies them competitively wherever he competes.
The mighty TURKS will be in full force in Poland led by TM Serdar Cumbus and an assistant TM Larry "king spotter" Jolly. No need to guess the senior team because it's been the same since they first entered F3J competitions, although I am reliably informed that competition to get into the team gets hotter each year. Pilots are Mustafa Koc, Murat Esibatir and Ilgaz "Doctor" Kalaycioglu. Esra Koc will be cheering us all up and flying juniors again along with Diren Ustundag.

The teams have had training camps at home and have flown in several of the Eurotour contests with success. I am told that all pilots are taking this Eurochamps "very seriously" and want to better the challenge set by themselves at Red Deer, Canada in 2004.
UKRAINE is the last team in alphabetical order, and they have the same senior pilots as in Turkey, Volodymyr Makarov, Dmytro Kharlamov and Alexender Petrenko, with two juniors, Alexander Chekh again and newcomer Artem Parkulab. I expect to see Vladimir Gavrylko as team manager, but I am surprised not to see his son Jury in the juniors, presumably harassed by educational matters.
Who is going to win?

Now to the bit which regular gossip readers turn to first - who will make the flyoff list, and then win?

My whims and guesses are often guided by recent Eurotour results, not that they are reliable always for even the most competitive contests in the various countries do not have quite the same edge as a true international. This year yet again, Philip Kolb has set a pace which cannot be beaten and scored maximum 103 points in Turkey in April, and in Bulgaria and Croatia in May. So he cannot be other than top unless someone else draws level.

The Contest Eurotour is judged on the top three results from 15 contests. Sebastian Feigl has topped the lists in the Czech Republic and Belgium but without scoring 100 in the preliminaries plus three for the flyoff. So with five contests still to take place at the time of writing, it is still possible for him to draw level with Philip - not beyond his capability - but unlikely.

A more relevant guide is the fact that the Turks have done well wherever they've travelled, and at one point we had Larry Jolly from California in third place after four rounds. Primoz Risner is running close to Philip, and Georgy Dimitrov, the junior from Bulgaria, has excelled so far.

Now to look into the crystal ball for Poland. Assuming that the flyoffs have ten places, my list is Damir Kmoch, Colin Paddon whose season has yet to turn lucky, Sebastian Feigl defending his Eurotitle, Karl Hinsch, Filippo Gallizia eager to keep the family among the winners, Peter Smitz as a determined newcomer and outsider, the irrepressible Jo Grini, Juraj Adamek, Primoz Rizner or Prhavc, allowing me one extra guess, and finally Murat Esibatir.

As with last year there will be a prize for whosoever gives me their flyoff list and gets most correct. Either e-mail me or hand me your list before the contest starts. Last year's joint winners, Larry Jolly and Margaret Pettigrew from Australia, have still to get their prizes, but they treasure the honour.

My favourite to win and become 2009 European Champion is Sebastian Feigl, who would be the first pilot after David Hobby to win two consecutive titles. Coached by his brother Benedikt, they are hard to beat in any company. My greatest wish is to see that everyone enjoys a happy and fair contest.

Good cause to support

Philip Kolb's prize for winning the F3J contest in Bulgaria in March was a full carbon NAN Models "Xplorer in orange and blue. The same model is being auctioned in aid of the Genc Hayat Young Lives Foundation, a registered charity based in Istanbul, Turkey which helps young men and women from lowly deprived backgrounds to reach out and improve their own lives and their communities through social and educational work. (Details see www.genchayat.org) To donate is also to remember how privileged we are to share a sport, not as expensive as many, but far beyond the means of lots of folks.

To win Philip's model you can bid a minimum of €5 or as much as you care to give, the winner donating the maximum amount. Bidding will end at the F3J Eurotour in Bovec, Slovenia in September. Donations can be given to Philip direct at any Eurotour event, and if he comes to Poland. At present he is not supposed to be coming, but can he really resist? If he isn't there, someone else will collect and issue receipts.

Philip Kolb with his winner's prize donated by NAN Models and now to be auctioned in aid of the Young Lives Foundation. (Photo courtesy of Nick Kidd)
Results report next month with luck.
Sydney Lenssen, July 2009